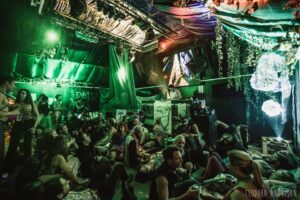 Following Burning Man's theme camps and Nowhere's barrios, we need groups to run different areas of the venue. We've had everything from cabaret to dance floors to chill out spaces and even a giant dressing up box – we can't wait to see what you've got for us this year!
Theme camps at London Decom range from small intimate workshop-style spaces up to completely owning entire rooms.
Camps will have full creative control over their space, including all decoration and selection of music and performers.
Creative grants of up to 100% are available for qualifying expenses for theme camps!
If this sounds a bit too intense but you'd still like to run a short event in an existing space (and you don't manage the area's decor), just tick the 'Workshops' box in the application form. Yes, there are grants available!
Applications are now closed.