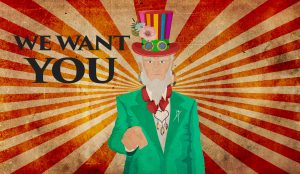 Participation and Communal Effort are two of the 10 Burning Man principles, and volunteering at the event is the perfect way to get into the spirit of the event as well as give the gift of your time back to your Decompression community.
There's opportunities to get involved before the day, on the day in the creation of the venue and throughout the event, from entry to strike with a special shout out for those both willing and able to do some sober hours.
We welcome and respect the stranger with no prerequisites for participation, so take a little look in your membership area and see what tickles your fancy – shifts are usually 2 hours long, so fear not – plenty of time left to party and it's a lot of fun being part of the crew that makes the magic happen.
To volunteer, you'll need to be a member and have a ticket. Once you got that, you'll be able to sign up to participate via your membership account.