What is a D-Ranger?
D-Ranger are participants (just like you!) who volunteer some of their time during the event for the wellbeing of the community.
What does a D-Ranger do?
D-Rangers can help you with information, intervention, answering questions, de-escalation, calling for help (they have radios), even general chatter. They are, as always, #notyourmum #notthecops
How do I spot a D-Ranger?
Rangers in duty at London Decompression go around in pairs and will have a purple "D-RANGER" sash on. Some may have a purple tiara, t-shirt or other assorted purpleness as modelled by Mr. Panda.
Some will be near entrance and others walking around the venue.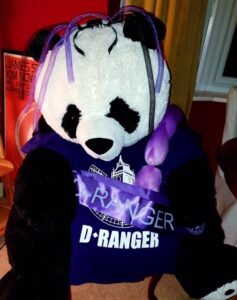 If you need help or see someone who does, find a ranger and let them know.